Dear friends,
take Nonformality, Youth Debate, Research Seminars, 130 applications, 30 participants, excellent speakers and interesting topics and spice this mixture up with a geek, a microphone and a macbook. Throw it all into a large-enough pot and stir well. What do you get?
Exactly.
Welcome to the Podcast series co-produced by Nonformality and Youth Debate.
At the most recent research seminar of the institutional partnership on youth work, youth research and youth policy development, we recorded the inputs of the keynote speakers. One by one, we publish these recordings as podcasts throughout the coming weeks.
Now, a podcast is nothing else than a digital recording of a radio broadcast or a similar programme which is then made available on the Internet. While the name is coming from both broadcasting and iPod, a podcast is not restricted to an iPod or any other media player, in fact. You can listen to it easily, using one of many different ways.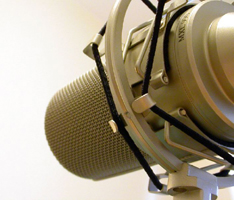 If you wanna know more about podcasting, head over to Wikipedia.
This first podcast is the input of Gavan Titley 'Resituating Culture – Situating Diversity'. The lecture was given to the participants of the research seminar 'Human Rights – Diversity – Participation'.
"Gavan Titley situates and questions diversity."
The only thing that you need is a computer which can play mp3-files. Millions of programmes do that for you – Windows Media Player (or Jetaudio if you are on the outlook for a better and free alternative) on PC computers or Quicktime on MAC machines or iTunes on both.
Normally your computer knows very well what to do anyway, so just go ahead and download the mp3 file — your machine will take it from there, most likely. If not, ask a geeky character in your vicinity.
Just be aware that audio podcasts are usually not the smallest files (also true for ours: 45 Megabytes), so download might take a moment or two. The good news: It happens in the background, so you can continue to work away!
For you iTunes users out there, we have also included the iTunes link. For you nerdy friends of ours, we also have a more modern version of the soundfile available. And for all friends of RSS and feed readers, we also have a link especially for our podcasts.
Enjoy listening!