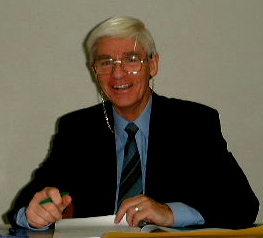 Why would a perfectly decent professor of education make such a radical statement?
Well, you may have noticed that learning styles have become very fancy these days.
"What's your learning style? Find out in 2 minutes." That's just one of the slogans with which millions of websites and thousands of books try to catch the attention of whoever is interested in learning and education. A wide array of abbreviations such as MBTI, LSP, CSA, ASSIST, TSI or HBDI suggest scientific reputation and acceptance.
"The UK goes VAK…"
In the UK, the Government's Department for Education and Skills (DFES) has picked up this steadily-growing trend and decided that all school students shall henceforth be categorised as either kinaesthetic learners (they learn by doing) or auditory learners (they learn by hearing) or visual learners (they learn by seeing).
I don't know about you, but I have — in 25 years which I have spent in formal and non-formal education in different roles and capacities — not met one single person who is exclusively what the DFES calls a kinaesthetic, auditory or visual learner. Yet, in the UK this dangerous simplification is pushed forward by the so-called "Innovation Unit" of the DFES and widely supported by politics and administration.
On the website Teachernet, the education department provides 15 tips on teaching which caters the three learning styles – five tips for each of the three, containing hints like 'practise active listening' or 'ask pupils to see words with their eyes closed'.
"Welcome to the IKEA test…"
A leaflet-style 'Quick Guide on Learning Styles' for teachers and educators explains that there are a few common-sense ways of 'diagnosing' students' preferred learning styles. One of them is called the IKEA-Test and goes like this:
Ask your pupils: If you buy something that you have to assemble when you get it home, do you:

a. open the package and try to put the item together without reading the instructions?
b. read all the instructions before you attempt to assemble the item?
c. hand the instructions to someone else to read them to you?
You may have guessed that option a. makes you a kinaesthetic learner, option b. a visual learner and option c. an auditory learner.
Congratulations.
"Ils sont fous, ces Britons!"
Now, please don't make the Obelixarian mistake (Ils sont fous, ces Britons!) and brush the British example aside. It is by no means a particular case, on the contrary: The UK just picks up on one of the most popular learning style theories around these days; the model is more commonly known as the VAK approach and widely used in and beyond education.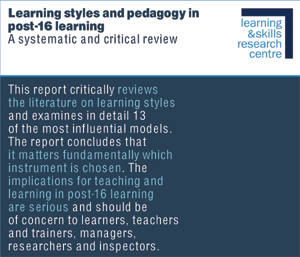 A research team led by Frank Coffield, Professor of Education at London University's Institute of Education, has identified 71 different learning style theories and scrutinised the 13 most popular and influential of these in a major research project lasting 16 months.
"The real danger is that learners are made to believe they are kinaesthetic only."
The researchers' assessment of the VAK model shows how dangerous and simplistic the pruning reduction to kinaesthetic, visual and auditory is. Professor Coffield says: "The real danger is that if learners are made to believe they are a kinaesthetic learner, they might see little point in reading a book or listening to anyone for more than a few minutes."
While not all models promote such simplicity and ultimate one-sidedness, very often they are — deliberately or unintentionally — understood and (mis-)interpreted that way. One prime example is the reference publication of the DFES for teachers in the UK. As part of the series Pedagogy and practice: Teaching and Learning in Secondary Schools they published a 27-page booklet entitled "Unit 19: Learning styles". Professor Coffield called upon the DfES to withdraw its publication: "The booklet is woefully uninformed about research. It is also impractical, patronising, uncritical and potentially dangerous to students."
Two other models analysed in the framework of the same research — and using the same approach to ensure consistency — we all know very well: It is (1) Kolb's Learning Style Inventory (LSI) and (2) the Learning Styles Questionnaire (LSQ) of Honey and Mumford. Both are frequently and enthusiastically used in non-formal education and referred to, amongst other places, in the Training Kits 1 "Organisational Management" and 6 "Training Essentials".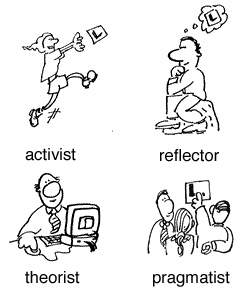 Kolb has one category more to offer than the VAK-model: he divides learners into convergers, divergers, assimilators and accommodators. Honey and Mumford developed Kolb's thinking a little further and identified activists, reflectors, theorists and pragmatists. Unlike Kolb, whose LSI basically asks people directly how they learn, their LSQ probes general behavioural tendencies rather than learning.
This field suffers from serious conceptual confusion."
While Kolb's thinking on learning styles certainly was the first and very important step in challenging the (then common) reduction of learning potential to one dimension, the instruments LSI and LSQ are both far away from being adequate to portray the reality of learning — a deficit they share with most other models and theories on learning which currently exist.
Or as Frank Coffield puts it: "This field suffers from serious conceptual confusion and a lack of accumulated theoretical knowledge."
Yep.
The following table presents an overview of the analysis carried out by Coffield and his team, clearly showing that there seems to be only one model fulfilling even the most basic criteria (and the expectations raised by own claims, at that):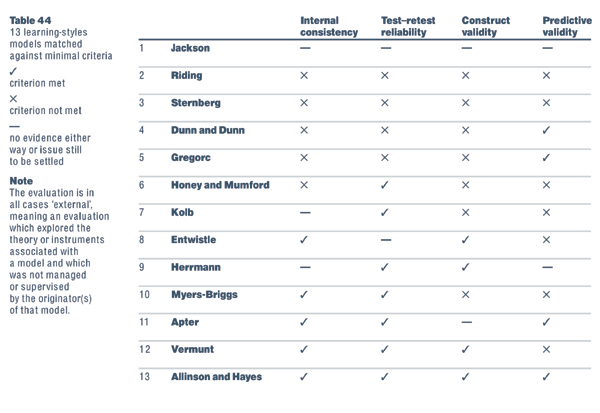 As you can see, the vast majority of currently (also in non-formal education) employed instruments to analyse learning styles and their underlying theories are seriously flawed.
"Non-formal educational practice needs to take these findings into account."
Yet, let me suggest that we not only wrinkle our collective nose, shake our heads and laugh about the British government's ludicrous attempts to address an increasing gap between learner's needs and pedagogical responses in formal education, but that we also give ourselves the necessary push to be more critical and aware of current research.
The minimum we can do in appreciation of the work of Frank Coffield and his colleagues is to have a thorough look at Allinson and Hayes' Cognitive Styles Index next time we would like to write about learning styles or we would like to use an instrument to analyse the learning styles of our participants.
At least.
---
Related documents
Learning styles and pedagogy in post-16 learning: A systematic and critical review (pdf, 1.2 Mb)
Should we be using learning styles? What research has to say to practice (pdf, 530 kb)
Quick Guide on Learning Styles – Leaflet (pdf, 170 kb)
DFES Booklet on Learning Styles – Unit 19 Pedagogy and Practice
T-Kit 1 Chapter 2 – Honey and Mumford (pdf, 170 kb)
T-Kit 6 Chapter 3 – Kolb (pdf, 520 kb)
Related Links:
Institute of Education @ University of London
Learning and Skills Research Centre
Learning and Skills Development Agency
Infed's review and criticism of Kolb's LSI
Wikipedia on Learning Styles
Wikipedia on current criticism of learning styles