Journeys with Peter Lauritzen.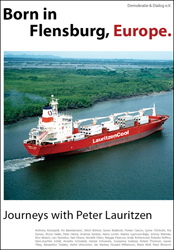 It is our pleasure to announce that our project to publish a Festschrift in honour of Peter Lauritzen is finally coming close to completion.
We expect the publication to be ready for distribution towards the end of summer 2008 and would like to provide you with some more information about its contents and how to order your copy.
«Born in Flensburg, Europe. Journeys with Peter Lauritzen» is a volume of essayistic contributions from colleagues, fellow travellers and friends treating some of Peter's themes of professional and personal interest including non-formal and intercultural education, youth research and youth policy development as well as human rights and European co-operation.
essays
articles
The contributions include «Youth as a policy area of the Council of Europe» – an interjection on legitimacy and morals by Hendrik Otten; a personal tribute to Peter by Howard Williamson entitled «Coming of age in Strasbourg»;
interviews
reflections
conversations
a piece on the intolerance of tolerance – «All Different – Never Equal?» – by Alana Lentin and Yael Ohana; and «Where eagles dare to fly», an invitation to dance by Lynne Chisholm – as well as articles and essays by Bruno Haller, Andreas Karsten, Jan Lauritzen, Johnny Mahnke, Antje Rothemund and Gavan Titley.
The book also includes interviews with a wide variety of friends, colleagues, associates, professional acquaintances and employees who played an especially important role in Peter's career and personal life, for whom he had a lot of respect or enjoyed working with or with whom he had a particularly close professional association. These people have kindly shared their opinions, visions and ideas about issues that were the centre of Peter's concern.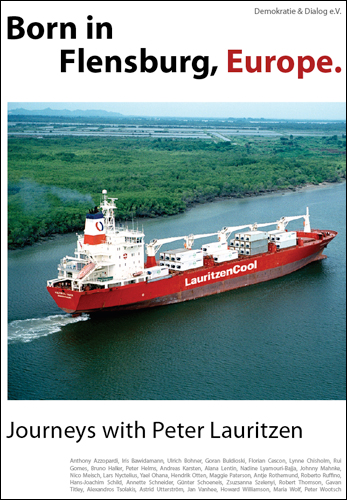 They are, in alphabetical order:
Anthony Azzopardi, Iris Bawidamann, Ulrich Bohner, Goran Buldioski, Florian Cescon, Rui Gomes, Peter Helms, Alana Lentin, Nadine Lyamouri-Bajja, Nico Meisch, Lars Nyctelius, Maggie Paterson, Roberto Ruffino, Hans-Joachim Schild, Annette Schneider, Günter Schoeneis, Zsuzsanna Szelenyi, Robert Thomson, Alexandros Tsolakis, Astrid Utterström, Jan Vanhee, Maria Wolf, and Peter Wootsch.
We hope that the Festschrift will interest a wide variety of readers including, but not exclusively, professionals active in the field of youth and European affairs.
The book has been supported and worked on by many different people — you know who you are!
It is being published by «Demokratie & Dialog e.V.», a small and newly created non-profit association aiming to sustain and support the causes and principles Peter has worked for all his life. If you are interested in becoming a member, simply drop us a line.
order
here
online
You can order «Born in Flensburg, Europe. Journeys with Peter Lauritzen» directly here on the website.
You can opt to pay by bank transfer or credit card. Please follow this link to our online bookstore (accept the certificate when asked) and submit your order — you will then receive an invoice and payment instructions by email.
Your webbrowser might display information about an unknown certificate — we are not that famous yet, you see… While this may look dramatic at first sight, the certificate is actually your guarantee that the online bookstore is encrypted and your data is safe.
The price is 22 Euro including taxes and postage, covering the production costs only. For larger orders we have a small discount system in place — order 5 to 9 books and receive 5 % off; order 10 to 19 books and get a 10% discount; and orders for 20+ books receive a 20% reduction.
Whichever your way of payment, you will receive an email confirmation of your order having been logged, a proper invoice and a further email notification of your order having been dispatched by post, once the book is ready.
You are also welcome to further support the Festschrift. If you are interested in donating a small sum for this good cause, please do not hesitate to get in touch.
We look forward to receiving your order and thank you for your continued support of our project to honour Peter. We sincerely hope that this book will be a lasting memento for all those who held Peter dear and miss him.
With best regards
Andreas Karsten, Yael Ohana and Hendrik Otten
On behalf of the Festschrift Editorial Team