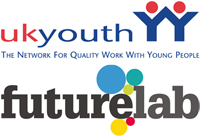 UK Youth, one of the leading youth charities in the UK, has started what they call "a non-formal forum on non-formal learning for youth."
Their upcoming Conference "Vision not Division – Learning for all in the 21st Century," jointly organised amongst others with Futurelab – Innovation in Education, focuses on
"the increasingly significant contribution that non-formal learning is likely to have to play in the future provision of education and learning in the 21st Century."
The conference brings together seminal figures from the British sphere of non-formal learning – researchers, practitioners and policy makers alike.
In preparation and anticipation of the conference, their consultation planning group looked at recent definitions of non-formal learning to identify some common ground through characteristics of non-formal learning spanning across several definitions:
a commitment to the 'agency of the learner'
purposeful and intentional learning but most often a voluntary commitment by the learner
reliant on a set of values/beliefs about learning rather than an organizational setting
learner-centred
requiring a flexibility in learning styles, tending towards experiential and reflective
provides for accreditation of learning if required by the learner
takes place in a wide range of environments and settings covering a broad range of subjects and activities
delivers an integral aspect of Life Long Learning
They also say that, in their view,
"non-formal learning occupies the space that separates formal and informal learning and permeates both these arenas, when utilised by skilled and expert practitioners." [Source]
The definitions considered are well-known and widely referred to – including the European Commission's Communication "Making a European Area of Lifeling Learning a Reality (2001)," the shared Commission & Council Working Paper "Pathways towards validation and recognition of education, training & learning in the youth field (2004)" and the Salto Report "Promoting recognition of youth work across Europe (2005)."
(Sidenote of interest: the people behind the definitions in these reports are no other than Lynne Chisholm and Peter Lauritzen. Andreas)
What do you think about this common ground?
Something missing, something wrong?