Today Twitter played host to a debate on the meaning of respect and tolerance, but 140 characters seem a little limiting for this particular exchange so I thought that pulling it out of this—slightly shady, slightly geeky—platform of intellectual ephemera might not be such a bad idea.
It all started with the succint observation that
» tolerance is so yesterday
by Bastian at half past five in the damn early morning, after what apparantly was a night of working on an application for the lovely & beloved June 1 deadline. An hour and a half later Snezana signals agreement:
» tolerance is passé!
Another thirty minutes later Darek asks with lapidarity equivalent to, I guess and digress, electronically raised eyebrows:
» Is it? Why?
Whoosh! And off took the debate…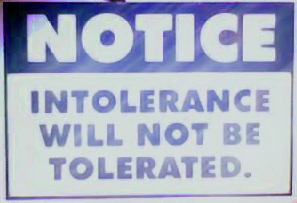 Before you re-live the discussion and chip in with your own two cents, let me throw in some definitions of the English words that we discuss.
I am fully aware that, on the one hand, these definitions can be disagreed with; and they should not resolve the matter or stifle the debate. But, on the other hand, our discourse often originates from—and gets stuck in—the different meanings of words in our respective mother tongues as well as different socio-political spaces.
tol‧er‧ance

     the ability, willingness, or capacity to tolerate something.
     Origin: from Latin, tolerare (see tolerate).

tol‧er‧ate

     1. allow the existence or occurence of (something that one dislikes
         or disagrees with) without interference.
     2. endure (somone or something unpleasant) with forbearance.

Concise Oxford English Dictionary, 11th edition 2008.
To me, the problem seems at least partly caused by the attempt of the United Nations to instil a philosophical meaning into the word tolerance that it doesn't seem to carry linguistically.
Take the Declaration on the Principles of Tolerance by UNESCO, which offers a philosophical definition of tolerance like so:
"Tolerance is respect, acceptance and appreciation of the rich diversity of our world's cultures, our forms of expression and ways of being human. Tolerance is harmony in difference."
Wikipedia, to refer at least once to everybody's favourite dictionary of our times, describes tolerant as moderately respectful – and that is, as the Oxford Dictionary definitions from above, pretty different from the UN, I would say…
So, here comes the debate (as of June 2, 2009 at 17:00 hrs) — read it from the bottom up, as the most recent entries are on top [UPDATE: It seems that Twitter is not really able to sort conversations chronologically—please don't ask why—but you'll probably get the picture despite the confusing order…]!
What do you say?