Established in 1996, the European Youth Forum has become a self-absorbed shadow of its former self. The cacaphony of voices, wishing either for a new European Youth Network or the return of separate organisations for international youth organisations and national youth platforms, is growing stronger and more determined.
many problems
but no discourse
Because there is, regrettably, no open discourse on the situation of the Youth Forum between the different movements and strands—with most youth organisations, in united hypocrisy, happily ignoring their own call to politics for more transparency—these voices cannot be easily heard, but the increasing frequency, intensity and attractiveness of networks and meetings working on the establishment of organisational alternatives will soon lead to visible results, which will exemplify for how long the dissatisfaction with the Youth Forum has simmered.
The few large organisations that currently dominate the platform—most notably the scouts and the socialists—share a lack of interest to make the European Youth Forum a strong voice of young people with key institutional players such as the European Commission: both sides fear the loss of power and influence.
lack of courage
and authenticity
Luckily for these players, the Youth Forum is, in its current state, caught in internal power struggles and ensnared by a lack of critical voices: seemingly endless discussions culminate in carefully negotiated position papers that lack both courage and authenticity.
Having discovered Youtube, the European Youth Forum publicly demonstrates—for anyone who has the strength to sit through their video speeches—that there is no youth spirit left to show; the organisation is light-years away from the creativity and sovereignty of many young people in using media and making their voice heard.
At the press conference marking the public announcement of the European Commission's new strategy for young people "Youth — Investing and Empowering", all that the Youth Forum's President Tine Radinja managed to achieve is that Jan Figel—Commissioner for Education, Training, Culture and Youth and anything but a talented speaker—shines as a seemingly gifted rhetoric.
Is this the voice of young people in Europe?
How is an organisation defending the interests of young people in Europe that doesn't have the courage to criticise the blatant discrepancy between the Commission's ambitions in addressing disadvantaged young people and the tools they employ to this end?
tokenistic symbol
How is an organisation defending the interests of young people that lets itself be willingly abused as a tokenistic symbol of pseudo-representation?
It isn't — no matter how many times it is written or said to be the biggest regional youth platform in the world, bringing together and representing tens of millions of young people from all over Europe.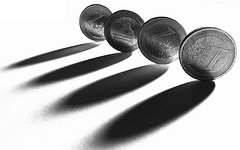 Photo by warein.holgado on
flickr
It would be too easy an explanation to point at the considerable amount of 2.2 Million Euro the European Youth Forum receives every year from the European Union through the Youth in Action Programme.
The EU, even though they would have the leverage, doesn't need to apply any thumbscrews.
Faced with a structure that fails to protect the interests of small organisations and offers no efficient instruments to constructively negotiate and mediate between different wings, the organisation consistently blocks itself and is as meek as a mouse.
[The alarmingly high turnover of staff is but one indicator for the state of the association,
in which the creativity and enthusiasm of individuals seems forfeit to vanish.]
Not surprisingly, the European Commission does not miss a single opportunity to praise the European Youth Forum as an important and reliable partner — smothered in harmony they can hardly breathe, and any criticism towards the institutions is systematically silenced.
For many years, interest in creating an alternative platform has remained low, also because there is so little at stake in a democratically defunct European Union — but sooner or later the much needed alternative will emerge.
Chances are that such a platform will be taken seriously — not because they brag to be the biggest organisation on the continent in every speech, but because they have something meaningful to say in ways which are authentic and honest, direct and powerful.
And when all is said and done, chances are that the European Youth Forum is going to find itself in a much stronger position after what will likely be turbulent times.
---
‧ Full disclosure: I was a member of the Bureau of the European Youth Forum from 1998 until 2000 with responsibility for education and training, and an unsuccessful candidate for Secretary General in 2003. If you are inclined to believe that I am searching for romantic memories or bitter revenge, feel free to do so.