On an average day, 250.000 new users join Facebook.
Every. Single. Day.
Today, I turned my back on on the more than 60 million users of Facebook, and the millions expected to join the social networking paranoia. Sorry guys, nothing personal.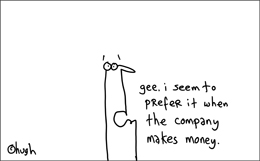 Why, you wonder?
It all started here, where the Economist debates what changes social networking technologies will bring to education. Ewan McIntosh argues that social interaction is essential to learning how to learn, to lifelong learning – and that social networks offer a better chance than ever of encouraging independent learning beyond smokestack schooling. Michael Bugeja counters that social networks exist for revenue generation – and the fact that users continue to manipulate their own images without seeing that motivation should be proof enough that the change to education can't be very positive.
This got me thinking. And reading.
I stumbled over Tom Hodgkinson, who analyses the politics of the people behind the site. The Guardian article reveals venture capitalist and futurist philosopher Peter Thiel as one of the key funders and figures behind Facebook and concludes that
Facebook is another über-capitalist experiment: can you make money out of friendship?
I learned that one of my favourite musicians, Canadian human rights activist Matthew Good, has just recently left Facebook – caused as much by Thiel as by Facebook's privacy policy. Which I began to read.
And let me tell you: it is as bad as rumours say, and worse. It essentially tells you that you don't have much privacy. Two of my absolute favourites: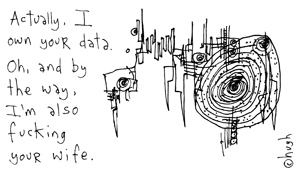 «Facebook cannot and does not guarantee that user content you post on the site will not be viewed by unauthorised persons.»
«Facebook may also collect information about you from other sources, such as newspapers, blogs, instant messaging services, and other users of the Facebook service … in order to provide you with more useful information and a more personalised experience.»
Thank you so much, very kind of you.
Check out this short video on youtube for more information.
And there is more Facebook criticism around.
But most importantly, I found this article by Danah Boyd, giving my own thoughts about the educational potential of Facebook a much-needed focus. Danah says that
«Social network sites do not help most youth see beyond their social walls. Because most youth do not engage in 'networking', they do not meet new people or see the world from a different perspective. Social network sites reinforce everyday networks.»
It's true not only for youth: I have made that experience, too. My list of contacts consisted of colleagues, participants, school mates, and friends. Every single person on my contact list I had met before in person, and the only thing Facebook could do for me was to calm down my bad conscience for being such a lousy communicator.
But beyond that, I got very little – educationally and personally. Lots of invitations to be a vampire here, dance with someone there, test my movie knowledge here, find out who is smarter than me there… And lots of 'IGNORE' buttons to press – one by one.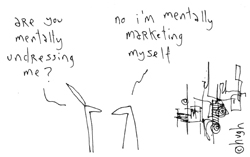 Danah puts forward another observation helping to explain things better. She writes that Facebook is about
«the kind of informal social learning required for maturation – understanding your community, learning to communicate, building and maintaining friendships, …»
When I grew up (not to say I am matured eh!), this still worked differently. Which is not to say that I think young people are silly today when joining Facebook. On the contrary – because we have, as Danah rightly observes, taken most opportunities for socialisation systematically away from young people, as so many other things.
«Youth are trying to take back the right to be social,
even if it has to happen in interstitial ways.»
And I wish them all the luck of the world. Take back your rights, but do me all a favour and, once in a while, keep your eyes open in the old-fashioned non-electronic world, where a couple of idealistic trainers try to create spaces for collective learning and socialisation that are, at times, almost as cool as Facebook – and less intimidating and commercial, at that.
For my own friends, I stick with Tom Hodgkinson's conclusion:
«And if I want to connect with the people around me, I will revert to an old piece of technology. It's free, it's easy and it delivers a uniquely individual experience in sharing information: it's called talking.»
Expect your phone to ring more often, out there.
And Facebook, eat your heart out!
Cartoons by Hugh MacLeod of gapingvoid.
If you really do need me online – find me here.