» Ten dreams of a lonely fish…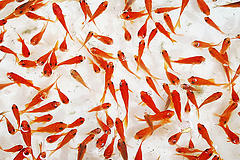 There are a lot of
pools in this world.
When I look at the different trainers' pools I am swimming in, I feel alternately like an amoeba, a piraña, an octopus, or a fool;" depending on my mood. In all of them I feel like a fish that doesn't quite belong there.
This got me to thinking about my pool dreams:
If I were in charge and could decide, what would I do?
My first thought goes to breaking down barriers. The current pools are very specific, and most of them are too small for all the fish. And it is very difficult to jump from one pool to the next; the small club of fish are mostly self-referential. Some of the owners should get together and co-operate!
less fog, and
more transparency!
My second thought goes to transparency. Every time pool owners are looking for some fish for a special assignment, it gets foggy inside the pool — like all octopi are loosing their ink at the same time. When the water clears up, a few fish are gone. Some return, others you never see again. What happens to them, I wonder…
My third thought goes to learning. Every fish is swimming around like they always did. It seems repetitive, and can get quite boring after some time. Learning new ways of swimming would be fun!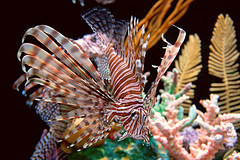 My fourth thought goes to renewal. Whenever there is a new fish, most of the oldies simply ignore them. Sometimes there are bitter arguments because a crazy greenhorn is trying to swim in the waters of the wise, old fish. Over the years, I have seen many sad fish, and some even injured. Shouldn't we be a little nicer?
My fifth thought goes to democracy. Our pool owners tell us we are swimming in a democracy. Funnily enough, this seems to be true only inside our small waters: someone else decides how much food there is for us, and who is allowed to eat. Some of us are kept hungry for too long; and I am wondering whether the perspective from up and out there isn't slightly distorted. Don't we see better what's going on inside the depths of our own waters?
less flipping
less snoozing!
My sixth thought goes to quality. Some fish are jumping when someone can be seen outside of the water, but snooze away the rest of the time. Some others invent crazy ways of flipping around that make a lot of waves for no good. Very few try to eat and grow so much that they can outshadow the smaller buddies. Some others work away quietly but are hardly ever noticed. I think every fish should get the chance to show what they are doing, why they are doing it, how good that has been and what it has given our community of fish. Should calm down the waters for the better!
My seventh thought goes to freshness. I think our pool needs some connection to the world out there. Some canals we can all use to go elsewhere and bring back new experiences, together with some fresh water. It gets muddy quickly, otherwise.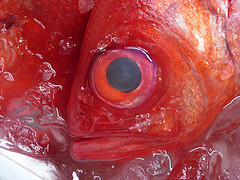 My eigth thought goes to mentoring. Why do all fish need to learn everything by themselves? Why is there no scheme in which more experienced fish can support, observe, guide, mentor less experienced fellas?
My ninth thought goes to self-management. I really have enough of being administered by someone out there. Not only is it blurry out there and difficult for us to see what's going on, it also seems to take so fishy long! Why don't we elect a couple of crazy and clever fish to manage our own business?
My tenth thought goes to creativity. I would love to see a gathering of all fish every six months for trying out all sorts of flippy ways of swimming, jumping, and diving. A safe pool to test the waters, so to speak :)
Well, I am off to watch «Find Nemo» and eat some sushi…