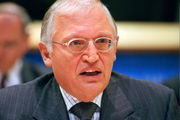 In an (to say the least: unusual) interview with the German Süddeutsche Zeitung, EU Commission Vice President and Commissioner for Enterprise and Industry Günter Verheugen (62) complains with an amazing level of frustration and honesty about permanent power struggles between Commissioners and their senior staff:
"The development of the past decades has given the Commission's apparatus of civil servants so much power that meanwhile it has become the most important task of Commissioners to control that machinery and its power."
"Sometimes the control gets lost."
According to Verheugen, too many decisions are negotiated between civil servants instead of discussed with the responsible Commissioner – who nonetheless remains politically and legally responsible.
"Making sure that sensitive decisions are tackled in the weekly meeting with the Commissioner implies having to pay hellish attention".
Verheugen adds that
"sometimes the control over the apparatus gets lost. My thesis is that too many things are decided by civil servants."
"A Commissioner needs influence, not only responsibility."
Making the unchecked power of civil servants co-responsible for the high level of bureaucracy, Verheugen demands that the Commissioner not only holds political and legal responsibility for his or her area of work, but also gets the final decision-making power over administrational structure, staff and budget — all of which lie with a Directorate's Director General at the moment.
He also suggests to re-organise the Commission in fewer Directorates while leaving the number of staff untouched, allowing for a cross-sectorial and holistic approach in the Commission's work. In his opinion, geographical, cultural and political cultures would remain balanced by allowing the Commission's President to construct his or her own Cabinet of Commissioners to be endorsed by both the Parliament and the Member States.
"It is about a change in political culture."
In the interview, Verheugen touches on two of the most problematic issues in shifting power back to the politically responsible Commissioners:
"It is about a change in political culture in the institution 'European Commission'. A change which has to reach the minds of all civil servants."
Not surprisingly, he leaves in the dark how exactly this could be achieved. Changing the political culture of an institution like the European Commission is not going to be easy. After all, the 18.000 civil servants of the Commission are to be convinced of an evolution essentially taking away some of their most essential powers – powers from wich they have benefited and to which they have grown accustomed.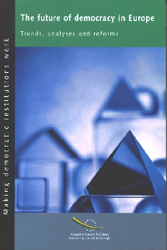 It may be worthwile considering how some of the 28 reform proposals suggested by the Council of Europe's Expert Group on "Making democratic instutions work" could contribute to reforming the European Commission's internal decision-making culture. Guardians to watch the gurdians seems to be a good idea anyway…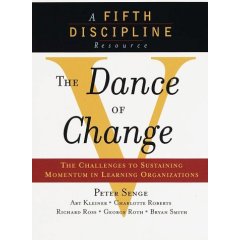 Another exciting aspect of this life reform attempt is the observation of the largest European bureaucratic structure trying to apply the principles of learning organisations to itself under cruel scrutiny from a prejudiced public. Take, just for a moment, the 5 key disciplines of organisational learning as published by Peter Senge and try to think about applying them to a machinery of such sheer size, political sensitivity and intercultural complexity. Oh je.
Indeed, as they say: "We are condemned to live in interesting times."
---
More on Verheugen's interview at the "EU Observer" and "Der Spiegel". More on organisational learning and the discourse on Senge's approach to it over at "Infed".
Interview published by Sueddeutsche Zeitung. Translations by Nonformality.