It is one of the basic principles of project management, and it has been widely accepted that having all three is a myth.
Common sense, experience and research all show the same: If the budget is fixed, and the deadline as well, the scope of the project must be negotiable. If the scope isn't flexible and neither is the deadline, the available budget has to be. If neither budget nor scope are negotiable, the deadline has to be bend.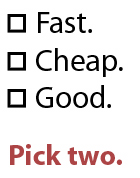 Something has to give. Try getting all three, and in the end every stakeholder will be disappointed and annoyed. It is like trying to square the circle.
"Try all three and everyone will be annoyed."
Yet, there seems to be a growing number of exceptions. I have the very personal and subjective feeling that more and more of my projects have to be quick, fast and cheap — all at the same time.
Just a few examples:
In educational activities, paid days for preparation decrease. Preparation at home has mutated into an unknown concept. At the same time, you are expected to be much better prepared than a couple of years ago — working later than midnight, excuse me?!
Co-ordination and administration of activities are increasingly outsourced, but funds for administrational expenses are cut down or cut out. At the same time, communication problems are not allowed. Cultural differences — what's that?!
The length of educational activities is cut, sometimes by half. The aims and objectives are not. Five days have to be enough, after all. When after such a course not much happens — what do you mean the time was too short?!
The number of days paid for publications, documentations, evaluations are permanently cut. Yet, you are expected to do everything at least twice as good as the person who has done a similar project last time — with twice the payment.
Based on these (rather frustrating) experiences, if you think positive and apply the pick-two-trilemma to educational work, it could probably be someting like: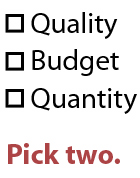 "With fixed budgets and numbers of participants the quality is lowered automatically."
If the budget is fixed, and the expected quality is not negotiable, the number of participants will have to be smaller. If the participants are fixed and the quality as well, you better come with a flexible budget. If neither your budget nor the number of participants is negotiable, I would suggest you lower your quality standards.
Yet, we are all increasingly faced with situations in which partners try to grab all three things at once. Strikingly enough, this is often the case when the (perceived) power relations are highly unequal and unbalanced.
We are being pushed around.

For how long?