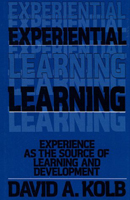 This is the second published article of a series on intercultural learning by Lene Mogensen from The Sparkle. Read the first article here.
I have previously described my critique towards certain ICL-games as means of creating intercultural understanding and tolerance. I used the example of "The Derdians�? — a simulation exercise from T-Kit No. 4 — to make the point that prejudices might actually be reinforced rather than fought.
A counterargument might be raised, that the main asset of non-formal learning is that it is experience-based — that the participants form their understanding based on their own experiences. The game is therefore not transmitting any values and understandings in itself — but is just a neutral vehicle for creating such experiences that the participants can then interpret. That non-formal learning is just that: learning from your experiences while you are playing and participating in exercises and discussions.
Maybe non-formal learning is just that: learning from experience while you are playing…
That it is not about transferring a certain understanding of culture — defining culture in this or that way. Let the formal school system — the universities — carry out that job of defining — and let the non-formal learning system provide the participants options for reaching their own conclusions. To qualify such arguments, Kolb is often perceived as the saviour, as he is said to stand up against all formal education by stating that learning is based on the first important step: experience!
Well, actually Kolb didn't say that, and I think a great problem of non-formal approaches towards intercultural learning is based on a misinterpretation of Kolb (Kolb, D. A. (1984) Experiential Learning, Englewood Cliffs, NJ.: Prentice Hall.).
What comes first is the question of the hen or the egg and doesn't make sense.
The question about what comes first: knowledge or experience, is the question of the hen and the egg. The question simply doesn't make sense. Maybe it makes sense at the very first moment that the newly born baby sets eyes on this world, but from thereon a certain knowledge-structure, a certain understanding of the world has been created, and all further experience will be interpreted based on this knowledge/understanding, as well as new experience will change or widen the knowledge structure.
The innovativeness of Kolb doesn't lie in his turning the linear approach of the formal school system upside down. Where the formal school system is claimed to start with abstract concepts and generalisations, which can later be tested and applied, Kolb is said to start with experience, observation and reflection and then abstract knowledge and concepts from experience. His innovativeness, however, lies in creating a circular model, where the two approaches are combined in a never-ending spiral.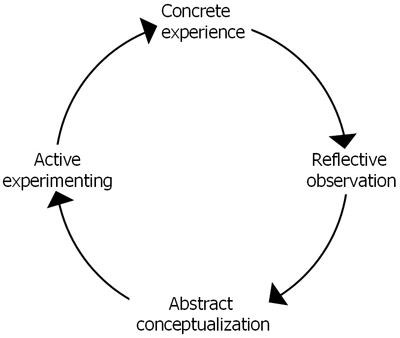 Interpreting "The Derdians�? — or similar ICL simulation games in this understanding of Kolb brings forward interesting questions. From the T-kit we can deduce what the experience is: the engineers will most probably experience frustration during the exercise, because it turns out to be more difficult to build the bridge, than they thought.
We also know something about the observation and reflection, as the debriefing should be lead towards a discussion of cultural differences and interpreting other people's behaviour. But which abstract conceptualisation will follow, is an open question. Just as it is not certain which implications this will have for further action and whether any new intercultural skills will actually have been learned during the exercise. "Of course!�? — it might be argued, "as this depends on the experience of the participants and the conclusions they make�?.
This conclusion is, however, based on the above mentioned misinterpretation of Kolb, stating that experience is the first step in learning, and thus a "neutral�? first step, on which participants can make their own conclusions. But Kolb drew a circle and said that there was something before the experience: namely abstract concepts and generalisations with implications for actions. The authors who wrote the T-kit and the trainers who select the exercises and facilitate the debriefing did/do this based on such generalised concepts (whether they are aware of it or not). The participants come with prior knowledge of what culture is and interpret their experience in the exercise based on this (whether they are aware of it or not).
There is no "neutral" first step.
In the last article it was claimed that "The Derdians�? is definitely based on a certain understanding of culture — namely one which ascribes culture to "traditional�? societies, to the "exotic�? the "distant�? the "southern�?, whereas "we�? — the engineers — are modern, developed and have science and knowledge. Well, I consider this a generalisation / concept, which might very well have prejudices and discrimination as practical implications — toward countries in the South/East or towards minorities in our European societies.
Many exercises simply re-produce the abstract concepts and generalisations they are based on.
The conclusion is that many ICL games run the risk of just reproducing the abstract concepts and generalisations that they are based on. Rather than being neutral vehicles for creating experience and reflections among participants, on which they can make their own conclusions, they just reproduce old knowledge (not much different from the formal school system). Ironically some of these concepts and generalisations of what culture is are outdated and have for instance within anthropology (the study of culture) been rejected long time ago. They have been rejected exactly because their practical implications turned out to be prejudiced and colonising development work (exchange your culture with our knowledge) as well as prejudices and discrimination against ethnic minorities. The science of anthropology is increasingly expressing worries about the concept of culture, which they themselves were promoting some decades ago.
Intercultural Learning needs to be reconstructed.
There seems to be an urgency of reconstructing intercultural learning. I cannot see how "awareness of cultural differences�? in itself can give any tools towards dealing with such challenges in our multicultural societies and globalised world. Additionally I fear that we are contributing to the reproduction of prejudiced and discriminatory practices, when we strive towards exactly the opposite, by reproducing an old-fashioned way of looking at culture. But what are the alternatives? Well, hang on to this channel (read: website) for further discussion on the subject.
Fire away with your comments!