The OECD has released the 2006 edition of their annual "Education at a Glance" series. In the accompanying press release the organisation claims that "low educational attainments continue to penalise people in many OECD countries":
"Education is a gateway to employment and in almost all OECD countries educational attainment levels continue to rise, with many countries showing impressive gains in university qualifications in particular, according to data in the 2006 edition of the OECD's annual publication "Education at a Glance".
[For your convenience: Direct Links to 2006 – Main Site and Tables of Indicators]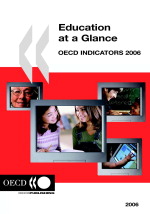 But while more than one third of students across OECD countries — and around 50% in some countries — now obtain university degrees — a persistently large share of young people do not complete secondary school, today's baseline for successful entry into the labour market.
On average across OECD countries, only 56% of adults without upper secondary qualifications are in employment. Of those who are, 26% earn one-half or less than one-half of the national median earnings. While many countries have seen steeply rising benefits from university education, including some of those where university education has expanded most, people who have not completed upper secondary school, and particularly women, continue to face serious labour-market penalties.
To address this, OECD analysts say, countries will need to scale back inherently class-biased and often regressive ways of funding educational opportunities, the effects of which often show up in educational attainment measurements. On average across OECD countries, for example, students from the most socio-economically disadvantaged quartile of the population are 3.5 times more likely than their peers to be in the bottom quartile of mathematics performers, and in no country is this less than twice as likely to be the case.
A compendium of national education statistics on indicators ranging from class sizes to teacher salaries, Education at a Glance provides governments and education specialists with internationally comparable data as a basis for policy debate and decisions. Among other things, this year's edition shows that:
On average in OECD countries, 84% of people who have achieved a tertiary education qualification are in employment. By contrast, only 56% of people without even an upper secondary qualification have jobs.
Public funding of education remains a social priority, even in OECD countries with relatively little public involvement in other areas: between 1995 and 2003, education took a growing share of total public expenditure in most countries, with Denmark, Greece, New Zealand, the Slovak Republic and Sweden showing particularly significant shifts in public funding in favour of education.
At the tertiary level, however, the proportion of public expenditure as a share of total spending has fallen from an average of 81.2% in OECD countries in 1995 to an average 76.2% in 2003, with only the Czech Republic, Ireland, Norway and Spain showing an increase. The proportion of tertiary education funded privately varies from more than 50% in Australia, Japan, Korea and the United States as well as the partner country Chile to less than 5% in Denmark, Finland, Greece, Norway and Turkey. Most of private funding comes from households, notably through tuition fees which are charged in three-quarters of OECD countries, though at widely varying levels.
Rapidly growing numbers of students are enrolling in tertiary education outside their home country. In 2004, they comprised 2.7 million students worldwide, an 8% increase on the previous year and more than twice as many as in 1995. More than half of these students are enrolled in four OECD countries — the United States (22%), the United Kingdom (11%), Germany (10%), and France (9%).
Annual salaries of teachers with at least 15 years experience at lower secondary level range from around USD 10,000 in Poland to USD48 000 or more in Germany, Korea and Switzerland and more than USD 80,000 in Luxembourg.
Gender differences in educational qualification rates are shifting in favour of women. For 55-to-64-year-olds, average duration of formal study favours women in only three countries, but for 25-to-34-year-olds, the average number of years of study completed is higher among women in 20 out of 30 OECD countries, and of the remaining 10 countries only Switzerland and Turkey register differences of more than six months in favour of men.
Education at a Glance 2006 can be purchased in paper or electronic form through the OECD's Online Bookshop.
Further information on Education at a Glance 2006 can be found directly at the OECD's website here http://www.oecd.org/edu/eag2006, as can country chapters on Canada, France, Germany, Italy, Japan, Mexico, Spain, the United Kingdom and the United States."
Source: Low educational attainments continue to penalise people in many OECD countries, Copyright OECD 2006.